KYOKO NAKAMOTO SOLO EXIBITION 2003 in OKINAWA
The last show in the year was over in a prosperous condition!
Thank you very much for a lot of people's visiting.
dates:Dec.2-8th,2003
10:00am-8:30pm
place:RYUBO Bijyutu Salon(palett kumoji 4F,naha/098-867-1171)
opening reception:Dec.2th pm6:00-

"Exhibition about BOOKS"
Kyoko joined the women artists' group show at the library gallery.

dates:Nov.2-29,2003
place:Okinawa Prefectual Library

ART & ANTIQUE FAIR 2003
Thank you very much for many people coming!
dates:Nov.8th-9th,2003
place:Camp Foster Fieldhouse
organizer:MCCS

"Talk Show"
Kyoko had a "Talk Show" at the THIRURU SALON in Naha.(October 18th, 2003)
Talked about the Art, job and business, family, etc. Special thanks to all the audiences who really enjoyed the Kyoko's world and the organizers.Thank you.



National magazine"dacapo"No.522
Kyoko's illustration appears on the feature article about ENGLISH
<2003/10>

ŸKYOKO NAKAMOTO SOLO SHOW
at Art Gallery BIKEI, Oita,JapanŸ
Thank you very much for a lot of people enjoyed Kyoko's artworks!
DATES:Sept.1(mon)-13(sat),2003
PLACE:Art Gallery BIKEI
yokota bldg.1F,3-7-11,funai-cho,oita-city,oita,japan

(tel 097-537-1077)Kyoko stayed at the gallery on 5th.&6th.


Interviewed on "ONLY"magazine vol.1(spring&summer issue)
<2003/9>

TIMES COMUNITY PLAZA "naive art class"



Group show by the students was held at KYOKOART Gallery.Aug.1-5,2003

Thank you for a lot of people came and enjoy my students' beautiful works. The class is closed for my preparation for exhibitions.



Kitanakagusuku elementaly school 100th anniversary.Kyoko's work appeared on the book cover.
<2003/8>


Appeares on the
OkinawaJOHO
"magazine,'mJuly.2003
<2003/8>

gourmet guide book around OKINAWA
published by
CHILDHOOD.Co.Ltd
<2003/8>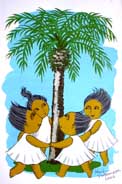 áThe small works show in NYCâ

SHOW TITLE:
Wish You Were Here Too! Postcards from gallery artists to benefit A.I.R. All postcards are $35.Dates:June 24,2003-July 19
Place:A.I.R.Gallery@511 West 25th Street, Suite 301 TEL 212.255.6651 @FAX 212.255.6653



@@Kyoko illustrated for the "WORLD PEACE CAMPAIGN" by OKINAWA NGO COUNCIL

œKYOKO NAKAMOTO SOLO SHOW in Rizan Sea Park Hotelœ
Dates:Aprl.26-May.5,2003(10:0am-18:00pm)
Place:Gallery in Rizan (1496 tancha,onna,okinawa i‡"098-964-6611j

Thank you for your coming to the hotel show.
backª@@«NEXT